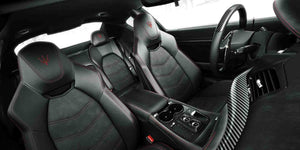 6 Benefits of Alcantara Fabric for Automotive You Should Know
If you are into automotive, you may be used to hearing words like Alcantara and other similar words that are used in manufacturer descriptions. For those who are not, Alcantara is a premium fabric that is used to enhance the interior of cars. While automotive shoppers sometimes think Alcantara is a leather or leatherette, it's actually a man-made replacement for suede.
Alcantara is extensively used by many car brands these days. Some of them include Mercedes Benz, BMW and Porsche.
But, is it really worth it? That is one question that comes to our mind after seeing a car manufacturer offering Alcantara as suede-style trim for car headliners, seats and front console upholstery.
Well, the answer lies in the benefits that Alcantara has to offer. Let's have a look at them.
Benefits of Using Alcantara
Better Material Quality
The fabric is manufactured by the Alcantara company in Italy. Being a microfiber material consisting of 68% polyester and 32% polyurethane, it is also used in a variety of industries like clothing, fashion & accessories, interior & contract, aviation, marine, and consumer electronics, etc. The touch of alcantara feels like suede. It is a premium material which is durable and long lasting. 
Alcantara is an avant-garde material that has top-grade aesthetic, technical and sensory qualities rarely found in other materials. Elegant, comfortable, light-weight, strong and 100% carbon neutral, are qualities that make it the first choice for premium car brands.
Easy To Maintain
You may think handling and maintaining this top-grade material involves intricate care procedures. However, Alcantara is an easy to clean and maintain fabric that doesn't absorb dirt and fluid. Also, non-porous nature makes it more resistant to food and liquid spills. This gives Alcantara stain-resistant properties and the ability to retain its color. So if you are a pet owner or have kids at home who are prone to spill on the seats, Alcantara is the best option for you to have luxury with easier care and maintenance abilities at the same time.
Scratch and Fire-resistant Material
Along with the anti-fouling properties and durable character, Alcantara is also fire-resistant. This is the reason it is a top choice for luxury brands. Top car brands such as Porsche and Mercedes Benz use it in their car interiors to wrap them and offer premium suede-like finish and quality. The roof, front console, steering wheel, gear shift knob and more are wrapped using Alcantara material.
Not an Animal Product
Alcantara is a synthetic microfiber fabric that was developed in the 1970s by Toray Industries in Japan. The product is made from a blend of polyurethane and polyester to make a soft-finished fabric ready to be used for car interiors. This means that the product is non-animal and supports your love for animals.
Provides A Strong Grip
As discussed, Alcantara is widely used in the automotive industry. In cars, it is used on the steering wheel, the gear-shift knob, and the seats as well. Due to its micro-fiber construction, the frictional resistance decreases which in turn increases the tendency to offer additional grip while cornering and in other driving conditions.
Soft and Premium Touch
While being more light and durable than natural suede, Alcantara is still among the most delicate fabrics one can find in a car interior. The sophisticated, scratch-proof, easy-to-clean, versatile, and 100% Carbon neutral material gives it a soft touch and a color that doesn't easily fade away. The official Alcantara website promises the product to deliver an emotion of beauty that is a result of the excellence of its creators from Italy. For this reason Alcantara is used for luxury garments, hand bags, and for furnishing home interiors as well.
Alcantara is a favored choice of designers, both brand and automotive, and architectural firms inclusive. Apart from these applications, it is also used extensively for consumer electronics like making mobile phone covers to get a texture and color that differentiates it from the rest in the market.
The final word
If you need more information about the product or have any queries regarding delivery, please feel free to contact us!
Come check out our selection of Alcantara for automotive! We carry alcantara for seats, alcantara for steering wheels, alcantara for headliners and dashboards, alcantara perforated, as well as Ferrari OEM leather and Maserati OEM leather.
---