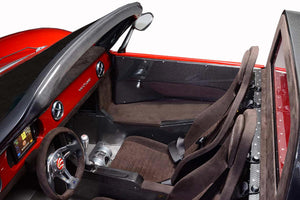 Alcantara For Steering Wheels: 5 Benefits You Should Know
Added Thickness
Alcantara for steering wheels is great for covering steering wheels or any other applications where a bit of added thickness is ideal for better grip and or handling. This fabric has a uni-directional stretch for use on steering wheels, and is approximately 1.2 mm thick.
Durability
Alcantara is made out of about 60% to 70% polyester and 30% to 40% polyurethane, which gives the material increased durability and stain resistance.
Increased Grip
Alcantara Multilayer for steering wheel offers superior grip compared to other options because of Alcantara's raw materials. This is why alcantara is commonly used as steering wheel covering for many performance and luxury vehicles such as Ferrari and Maserati (check out our Ferrari OEM Alcantara leather and Maserati OEM leather).
Not Animal-Based
One key benefit of Alcantara is that the fabric isn't animal-based.

This is excellent for customers who are vegan, vegetarian or simply prefer not purchasing animal-based products.

More, because Alcantara isn't made out of animal skin and because of its materials (polyester and polyurethane), Alcantara is easy to clean. Leather, on the other hand, is more difficult and delicate to maintain.
Cool In The Summer and Warm In The Winter
Alcantara is cool to touch in the summer and warm to touch in the winter, which is definitely a major benefit for using Alcantara for your steering wheel cover.

Leather, on the other hand, is cold to touch in the winter and hot to touch in the summer. Yuck! 
Ages Gracefully
Alcantara is completely resistant to cracking unlike like leather and is more resistant to fading due to harmful UV rays.

Leather can dry out and crack when exposed to the sun after a certain amount of time and it ages tremendously over time if not maintained properly. 
More Resistant To Stains Than Leather
Compared to leather, alcantara offers greater stain and abrasion resistance because alcantara contains thermoplastic polymers in the raw ingredients. Thermoplastic polymers are more resistant to stains and abrasion than leather.
Sustainable
Using state of the art research of raw materials from renewable sources, Alcantara S.p.A. continues to develop polymers partially using renewable sources. More, Alcantara S.p.A. aims to create a totally bio‑based product by 2022.

More, Alcantara offers a special version of material composed of up to 25% of its weight from raw materials derived from post‑consumer recycling. Alcantara is also committed to research projects which look into the theme of end‑of‑life recycling.

Come check out our selection of Alcantara for steering wheels, Alcantara Steering Wheel Multilayer fabric, Alcantara Steering Wheel strips, Alcantara for headliners and dashboards, Alcantara for seats, Alcantara perforated, Ferrari OEM leather, or Maserati OEM leather.
---